Collaboration in workplaces and educational institutions is seen as highly important. It's one of the biggest factors that contribute to the success of the company, and to the future success of students.
Traditionally, we all had our separate offices or cubicles or sat alone at our school desks, but space organization is changing, and the modern world asks for a more collaborative environment where people are more connected to each other.
There's no better way to ensure group work and collaboration than to create an open workspace that encourages people to work together. Enter collaborative furniture.
Active Environments Have No Place for Passive Furniture
If your goal is to have more productive and efficient employees, sticking them in isolated cubicles or offices is a sure way to achieve just the opposite effect.
Studies have shown how bad working in a cubicle is, employees are less mindful of each other, and they're more prone to wasting their time on their phones and laptops.
An open office with collaborative space, on the other hand, encourages people to be more active, to work together towards achieving a common goal, and eventually to increase their productivity.
Students find it much better when their classrooms offer collaborative furniture as well. With collaboration tables, every seat is the best seat in the classroom. There's no front seat/back seat, no way to isolate yourself from the rest of the group.
Collaboration tables encourage a more active environment where everyone gets a chance to participate and bring something to the group.
With millennials taking over the workforce, it's important to keep their needs in mind. Over 33% of them want collaborative workspaces, and the easiest way to deliver it to them is through collaboration furniture.
Using Collaboration Tables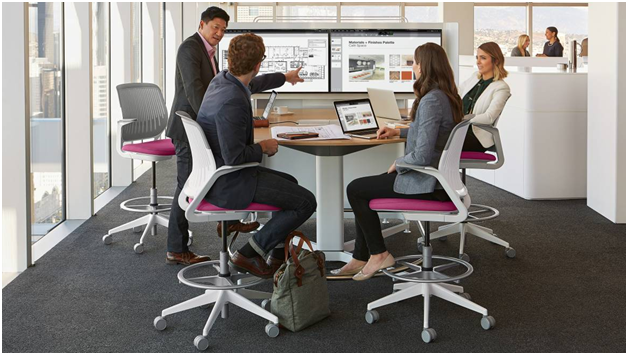 Creating active spaces for learning and working is of utmost importance in the 21st century. Active learning classrooms, for example, were shown to be extremely beneficial to the students' overall performance.
So how can you use collaboration tables to their maximum potential?
It's actually very easy and straightforward. Mostly it depends on the number of employees/students you have and the available space.
Collaboration tables can be customized to match your specific needs very easily. The best part about them is that they're extremely flexible and mobile.
When teamwork is needed, you can connect two or more collaboration tables into one big desk. This allows for everyone in the team to easily communicate with one another and work together.
The tables have a built-in cable management system, ergonomic design, and integrated power and data connectivity, so not only are they great for face-to-face collaboration, but you can also mount monitors and laptops on them and allow for virtual collaboration.
Most of these tables can easily be wheeled in or out, and when they're connected to each other, they're very sturdy. When teamwork is no longer necessary, they can quickly be separated into individual tables and wheeled out.
Some come with a flip top, so when they're not being used, they can be stored away without taking up a lot of space.
With a hidden monitor feature, collaboration tables can lift the monitor up when it needs to be used, or store it under the desktop when it's not being used, allowing for maximum workspace optimization.
Who Benefits from Collaboration Tables
Collaboration tables can be used in any environment where teamwork is needed. Whether it's classrooms, small offices, or large corporate buildings.
Improving a classroom floor plan with collaboration tables is extremely easy, and they're becoming more and more popular in K12 schools, colleges, and universities, encouraging an active learning environment.
Big and small businesses alike can find great uses for them as well. Optimizing productivity with an innovative floor plan and collaboration furniture is one of the biggest benefits.
The Advantages of Collaboration Tables
99.1% of people prefer a workplace where they identify and discuss issues truthfully and effectively, and workers cannot do that unless the office space allows for it.
Some of the greatest advantages of collaboration tables and collaborative spaces include:
Improved flexibility
Greater learning opportunities
Increased productivity
Better employee/student engagement
Creative solutions
Better task delegation
Improved morale
Boosted efficiency
Collaborative spaces allow for an easier sharing of ideas. When employees or students have to work in teams, they are more open to new ideas, and with greater brainstorming opportunities they can come up with much better and more creative solutions to problems.
Using collaboration tables brings many benefits to any office space or a classroom, and it encourages teamwork, ultimately resulting in happier employees/students and a better working environment.